All of our rockets, in chronological order, from newest to oldest.
Rockets currently built and ready to fly.
Tritium 1.3 is an iterative improvement upon Tritium 1.1 and currently leads all CMA rockets in flight heritage, with as many as six flights on some components on test vehicle 1301. This version is the first to include complex aerodynamic improvements like an area-ruled body and true airfoiled and blended fins. Tritium 1.3 first flew on November 13, 2021, completing three flights and reaching L1 certification.
Tritium 1.3 TV1301 is currently undergoing repairs due to a slight "zippered" body tube and a lost nosecone and will be reflown soon.
Flights:
FC4 – "Small Leaps and Giant Steps", 11/13/2021, ROCstock, Lucerne, CA
Flight 1: G80T-10, >2,500 ft.
Flight 2: H268R-14, target 5,100 ft., went sideways. L1 Cert
Flight 3: G80T-10, >2,500 ft., dusk launch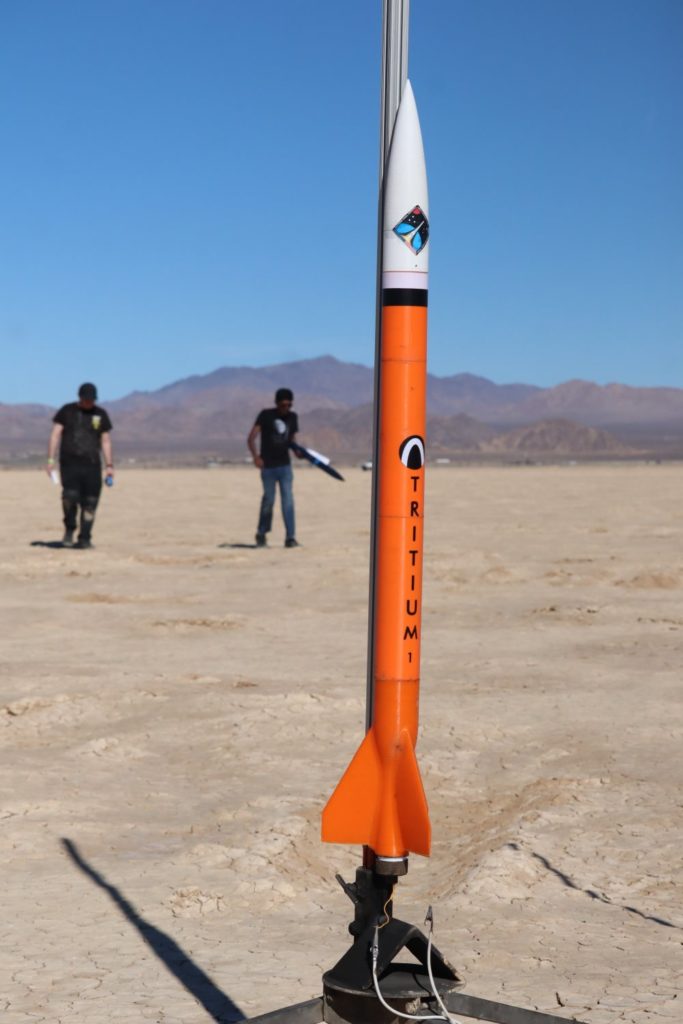 Status: Active

Lifetime: 11.13.21 – Present

Flights: 3

Maximum altitude: ~5,000 ft

Airframe size: 54 mm

Height: ~95 cm

Motor mount: 29 mm

Largest motor flown: H268R
Tritium 2.1 is an iterative improvement on the original 2.0 design, with most improvements focused on the aft end of the vehicle. The original design was severely prone to flutter due to its weak and oversized plate fins. To fix this, 2.1 uses much thicker airfoiled fins that are optimized for the transonic flight regime and take advantage of capabilities offered by 3D printing. 
Test vehicle 2001, the first Tritium 2.1 built, uses the body and nose from TV2000. Two segments of TV2000's body that were already replaced due to a previous crash included 2.1-related improvements, such as vents for the body tube.
Tritium 2.1 was supposed to fly as part of Flight Campaign 4 on November 13, but was not flown due to concerns regarding the motors available and its mount. TV2001 may eventually be replaced with an updated Tritium 2.2 with design elements more similar to Tritium 1.3.
Status: Pending first flight

Lifetime: 11/13/21 – ?

Flights: 0

Maximum altitude: TBD

Airframe size: 67 mm

Height: 153 cm

Motor mount: 29mm

Largest motor flown: TBD
Rockets that have flown and were then retired.
Tritium 2.0 was the latest clean-sheet build, designed with true high power in mind. It was designed to be the largest rocket printable with the Ender 3, though this may no longer be the case. The only 2.0 vehicle built, TV2000, flew for the first time on June 11, 2021, on a Cesaroni H123 Skidmark as part of an L1 attempt. The parachute was tangled on this flight resulting in a hard landing and the loss of two body tube sections (out of four). 
TV2000 was repaired after this flight and flew again on an I200W at Hot Nozzle Summer 2021. This flight was mostly successful, but the empty nose returned ballistic due to a bad knot and the "engine block" snapped (the white line before the fins) on recovery.
After TV2000 Flight 2, the Tritium 2.0 design was retired.
Flights:
FC2 – "Number One On The Runway", 6/11/2021, Lucerne, CA (H123SK)
FC3 – "The Hot Nozzles You're Looking For", 7/24/21, HNS 2021 (I200W)
Status: Retired

Lifetime: 6/3/21 – 7/24/21

Flights: 2

Maximum altitude: >2,700 ft

Airframe size: 67 mm

Height: 153 cm

Motor mount: 29mm

Largest motor flown: I200W
Tritium 1.1 was a landmark design – the first to fly twice, and the first to fly at an event. It was built from what were essentially scraps left from Tritium 1 (TV1000) as well as an entirely new upper body and fin can. Both flights were conducted at the Rocketry Organization of California's launch site at Lucerne Dry Lake, CA, on May 8. Flight 1 was a complete success, however, flight 2 resulted in a cracked fin and snapped motor mount. TV1100 was eventually retired, with its body tube reused for Tritium 1.3 vehicle TV1301 and its fin can and nose on display.
Flights: Flight Campaign 1, 5/8/2021 – 2 flights (G79W).
Status: Retired

Lifetime: 4/24/21 – Present

Flights: 2

Maximum altitude: >1,500 ft

Airframe size: 54 mm

Height: 106.7 cm

Motor mount: 29 mm / 38 mm

Largest motor flown: G79W
Tritium 1.0 flew a single flight – the last flight for over a year – on January 20, 2020, from Malibu Lake, CA. While the flight itself was a success, the long and drawn-out development process and overconfidence throughout the project led to serious flaws during the flight. The motor mount and fin can was poorly secured to the body (leading to it almost falling mid-flight), only one out of 5 cameras captured the launch, and the parachute was rendered nearly unusable after the flight.
Some parts of the only flight vehicle, TR-1, were reused on the Tritium 1.1 test vehicle TV1100 (the body tube, motor mount, and parachute) and flew 2 more times. The body tube was also reused on Tritium 1.3 test vehicle TV1301 and flew another three times.
Status: Scrapped for parts

Lifetime: 10/4/19 – ????

Flights: 1

Maximum altitude: >1,300 ft

Airframe size: 54 mm

Height: 109.0 cm

Motor mount: 29 mm / 38 mm

Largest motor flown: G77R